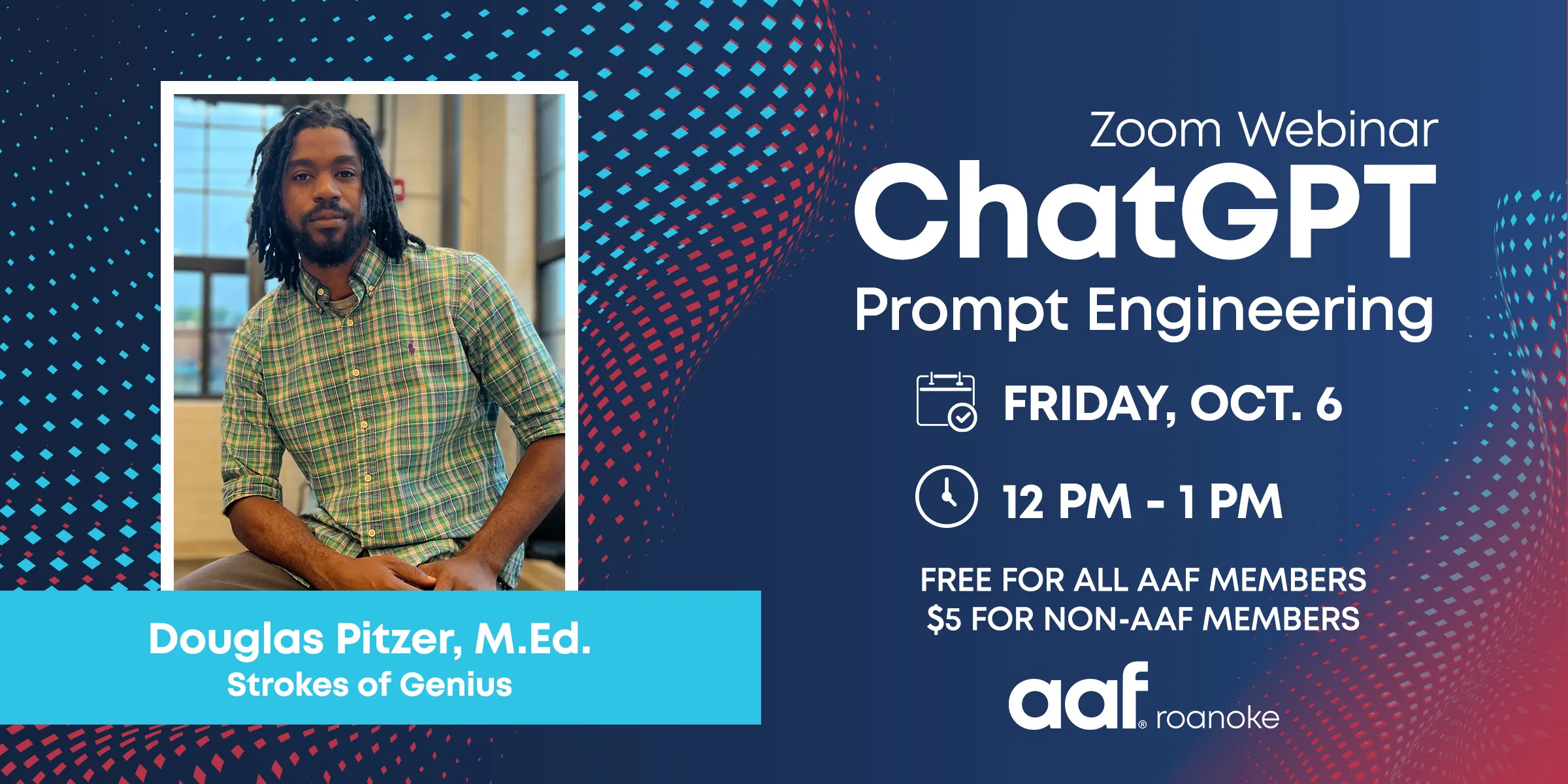 ChatGPT Prompt Engineering Webinar
October 6
@
12:00 pm
–
1:00 pm
Unlocking ChatGPT's Potential: A Deep Dive into Prompt Engineering
Join us on October 6 for an informative lunch webinar where Douglas Pitzer, M.Ed., of Strokes of Genius, dives into the world of ChatGPT and explores the art of prompt engineering. Whether you're a developer, a content creator, or just curious about leveraging AI language models effectively, this event is for you. We'll discuss ChatGPT's capabilities and best practices for prompt engineering and share tips and tricks to maximize its potential.
About Douglas Pitzer
Douglas Pitzer is a community activist and the founder of Strokes of Genius, LLC. His passion for education and technology led him to establish an innovative tutoring service that is dedicated to teaching technological literacy to students in the community.
Douglas believes in the power of technology as a tool for empowerment and is committed to helping students navigate the digital world with confidence and skill. Through Strokes of Genius, LLC., he has created a platform that not only educates but also inspires students to explore the endless possibilities that technology offers.
His dedication to his work and his commitment to fostering a love for technology in his students has led to him becoming the Vice President of Blacks in Technology for Southwest Virginia and truly makes Douglas Pitzer a stroke of genius in his field.
When: Friday, October 6, 12 pm – 1 pm EST
How to Join: Register by filling out the form below, and you will be emailed a Zoom link.
Cost: Free for AAF Members, $5 for non-members
ChatGPT Prompt Engineering
Registration for the virtual program.