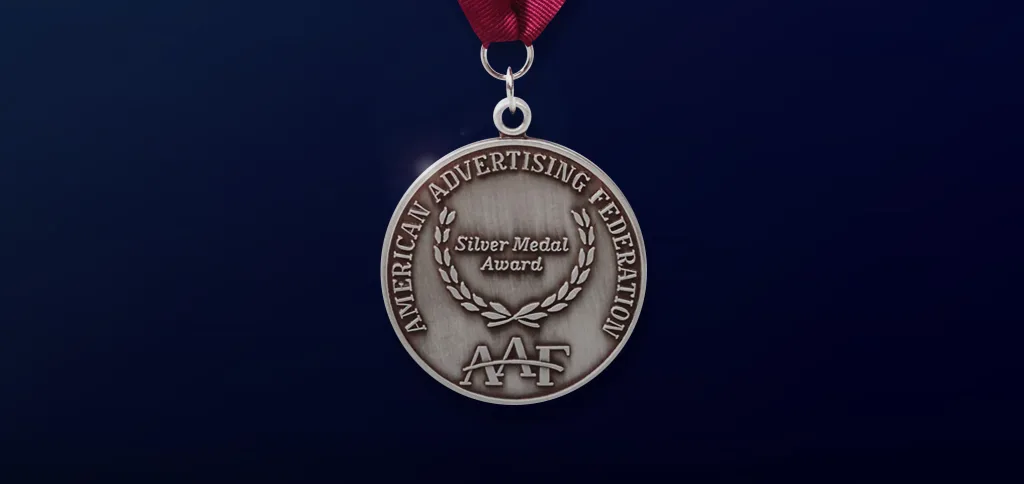 The American Advertising Federation's Silver Medal Award was established nationwide in 1959 to recognize men and women who have made outstanding, career-long contributions to advertising and who have been active in furthering the industry's standards, following creative excellence, and have shown leadership in areas of social concern.
AAF Roanoke's Silver Medal award serves to recognize outstanding individuals for his or her advertising and community involvement on a local level.
For questions about the criteria or for more information about what makes a successful nomination, contact Bill Houck at bill.houck@associatedposters.com or Ananda Gilmore at ananda.gilmore@deltadentalva.com.
Deadline to submit nominations: Jan. 31
Past Winners
To date, AAF Roanoke has awarded the Silver Medal to more than three dozen individuals since its inception in 1966.
2023 – Amy Pearman
2022 – Peggy Underwood
2021 – Kris Bailey
2020 – Bruce Jacobson
2019 – Tommy Holcomb
2018 – Katie Wallace & Steve Huff
2016 – Lindy Adams & John Anstey
2015 – Todd Marcum
2011 – Bill Houck (AAF Palm Springs-Desert Cities)
2010 – Tony Pearman
2009 – Terri Jones
2007 – David Hodge
2006 – Richard Boyd
2003 – Robin Chalkley
2002 – Sandy Murray
2001 – Freda Carper
2000 – Greg Vaughn
1991 – Jim Webster
1990 – Howard Packett
1989 – Jan Wilkins
1988 – Larry Bly
1987 – Don Foutz
1985 – Julie McDowell
1984 – William B. Houck, Sr.
1983 – Fred Mugler (Frelantz)
1982 – Mamie Vest
1981 – Dick Burton
1980 – Dale Poindexter
1979 – Claude Harrison
1978 – Wiley Wright
1977 – Herb Weaver
1976 – Burt Levine
1975 – Jerry Conrad
1974 – Bill Snider
1973 – Gordon LeGarde
1972 – John Harkrader
1971 – Cecil Edmonds
1970 – Chuck McKeever
1969 – C.B. Houck
1968 – Clay Ferguson, Jr.
1967 – Shields Johnson
1966 – John Will Creasy
Criteria & Selection
Again, it's important to note that nominations should show career-long contributions to each set of nomination criteria.
Contribution to his/her company: The recipient must have achieved long-term success in one of the following areas of work: advertising, media, broadcast, design, digital or advertising vendor or service.
Creative ability: The recipient must have shown a consistent, long-term high degree of creative, original thinking in their field.
Contributions to the general advancement of advertising: The recipient must have worked to increase the stature and raise the standards of the advertising profession.
Contributions to the community: The recipient should be someone who has been active in civic, religious, or other groups dedicated to human or social welfare.
Awards and board positions: List any applicable awards or board positions held by the nominee.
Silver Medal recipients are selected by a panel of judges made up of previous Silver Medal winners. Judges use the following criteria when making their selections. It's important to note that nominations should show career-long contributions to each set of nomination criteria. A nomination that only includes criteria for how the nominee performed at their job, for example, is likely not going to be considered as nominations that show examples for all of the criteria. Because this nomination is intended to show the breadth and scope of the nominee's work, please include at least three examples for each criterion on the form.
Nominate Someone For The Silver Medal Award